Professional Videography
With professional video production services based in Dayton, OH, we help businesses harness the incredible potential of promotional company videos. Expertly crafted video content that informs and inspires is suitable for a wide range of uses, from social media to offline events and more. As we know, in today's hyper-saturated tech world, you have a very limited window of opportunity to grab your audience's attention. That's why video is one of the most engaging and effective ways to communicate a message to potential customers online. However, the art of creating an impactful one requires careful skill, planning and execution.
Rest assured — we have all of that covered, and more. Our experienced videographers are skilled in storytelling, and put their knowledge to good use for your business. From product demos to social media clips or business video production, we'll help bring your story to life through videography.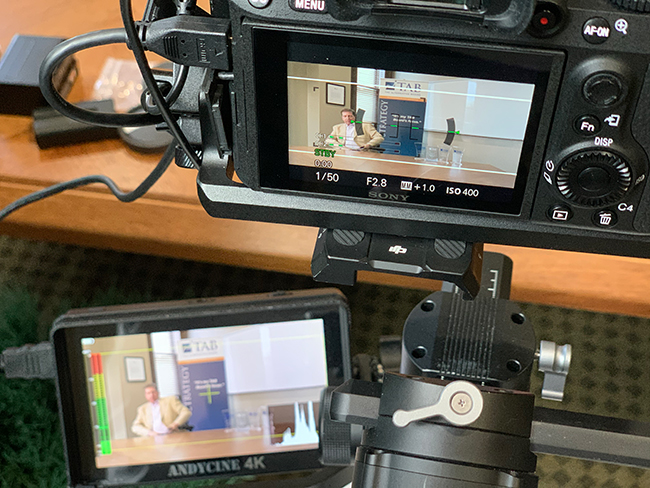 Videography Production Done Right
It's one thing to say something. It's another to see it. As such, we provide real-life product and service demos. Videography adds an extra layer of product proof to your business, which brings more credibility to your brand and reassures customers before they commit to a purchase. Our team makes your brand shine in front of potential customers with high-quality business video production. We work all the angles to capture raw footage of your services and products in action. Finally, we then edit the shots together to tell a compelling story that will drive your audience to convert.
Video Production for the Modern Age
Our approach to promotional company videos is high-quality and cost-effective. Strategy, planning, story boarding, filming, editing… a lot of work goes on behind the scenes to produce an effective video. Our process ensures we deliver a video that you and your audience will absolutely love.
1. Research and Discovery
As soon as we kick off our partnership, we learn everything there is to know about your business. We want to understand who you are, what you're hoping to accomplish, who your customers are, and what makes your products or services unique.
2. Planning and Preparation
Once we understand exactly what you're looking for, we get to work on pre-production. We map out a storyboard, find the best location, and create a shooting schedule. This means that filming goes off without a hitch, and we get everything we need to create amazing footage!
3. Video Shoot
Lights, camera, action! We use our professional filming equipment to capture your team, products, and services from the best angles possible. Our experts make your team feel at ease in front of the camera, so every shot looks natural and showcases your products effectively. Don't worry, we're here to make you look good.
4. Post-Production, Feedback and Approval
Post-production is where the magic happens. We splice, cut, and edit the footage into one cohesive video that communicates your brand's messaging. Every editing choice is deliberate, with the goal to create an engaging and authentic story that inspires your target customers.